Click on the bear to access our Library System and links to our databases: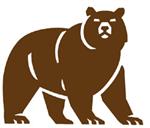 Need to access the databases @ home?
Click here!
You will need to log in to BASD's Google Apps
Look for BEARS in the News at the front entrance to the library. We post newspaper articles from the Reading Times, Pottstown Mercury, and the Boyertown Times when our BASH students are in the news.
120 North Monroe Street
Boyertown PA 19512
610-473-3650 (direct line)| 610-369-7533 (fax)
Email the Librarian
---