Return to Headlines
Gratitude Program at Washington Elementary School
Schools are a place where students learn more than grammar rules and multiplication tables, they also learn how to be a good citizen of the world. On November 22, Washington Elementary School kicked-off a series of character education programs, beginning with a schoolwide assembly on gratitude. The assembly was planned by the Positive Behavior Support (PBS) team, a committee that promotes character education, and was a part of the school's No Place for Hate initiative.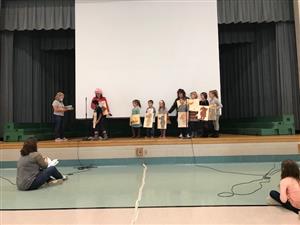 "The week of Thanksgiving was a timely fit for the gratitude celebration," said Mrs. Stephanie George, second grade teacher and member of the PBS. "I emceed the event, along with the principal, but several staff members participated, making it a successful group effort."
Gratitude was demonstrated in many ways at this assembly, beginning with audience members sharing thoughts and definitions of gratitude and how to show it. Several gratitude "shout outs" were read from an extensive list on a banner in the school lobby.
Gratitude was also explored through reading. Mrs. Megan Linderman, first grade teacher, and Mrs. Julee Carns, fourth grade teacher, led a read-aloud of The Thank You Book by Mo Willems. Students in kindergarten through fifth grade rehearsed for the supporting roles of the animals in the book. School librarian Mrs. Jill Becht and her student teacher, Mrs. Teresa DiSante, gave "book talks" on stories that demonstrated gratitude.
Other ways that Washington Elementary School showed gratitude included:
An update from Mr. Chris Iacobelli, school principal, on the candy collection drive for U.S. troops.
A report from Mr. Mike Davis, third grade teacher, on the school's food drive that provided Thanksgiving meals to several school families in need.
A promotion from Mrs. Joanne Oxenford, school counselor, for the Giving Tree initiative, a current service project to give back to families in need of holiday preparations.
Finally, students enjoyed a video by YouTube personality The Kid President about thankfulness. Everyone left the assembly feeling ready to start the day and show gratitude to each other.
The school's Positive Behavior Support committee will continue to support character education, kicking off the new year with a focus on friendship.