Return to Headlines
Students Perform at PEMA Region V Chorus
In early March, twelfth grade student Abby Arnold, eleventh grade student Taylor Kuszyk, and tenth grade student Sally Fetterman, performed at the Pennsylvania Music Educators Association (PMEA) Region V Chorus festival. Taylor Kuszyk was reseated to fourth chair as a Soprano 2, qualifying her for competition at the state level. She also represented the Boyertown Area School District at the PMEA All-State Chorus, which took place April 18 to 21.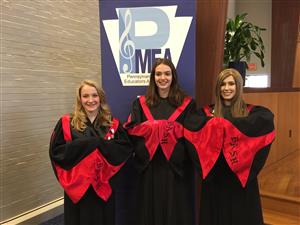 "Making it to the state level was a goal of mine for high school, and it was a great experience to be a part of," said Taylor.
Taylor has been "singing her whole life" and taking lessons with a professional since sixth grade. She is part of several performance groups at the high school, including concert choir, show choir, and chamber choir. She also played the role of Lucy in the high school's recent production of Snoopy!
The process of qualifying for the state choral competition is rigorous. Every performer receives 10 potential songs he or she may be asked to sing at the audition, and is only informed of the judges' final song choice 15 minutes before the actual audition. The performers are evaluated on a variety of criteria, including rhythm, pitch, dynamics, musicality, diction, tone, and, of course, hitting all the right notes. "I had a lot of rehearsal," said Taylor.
With all those standards of judgement, Taylor's qualifying performance is proof of her talent as a student musician. "I'm very proud of Taylor; she works very hard at whatever she does," said choral director Mr. Jeffrey Brunner.
Even with the excitement of competition, Taylor was glad to come home to Boyertown Area Senior High's choir. "Our choir is so good, I love singing with everyone and how our voices blend."
The PMEA is a statewide nonprofit organization of more than 4,500 members. The group is dedicated to promoting the musical development of all Pennsylvanians. Membership includes music instructors at all levels and professionals in the music industry, merchandising, and publishing. The nonprofit's mission is to advance comprehensive and innovative music education for all students through quality teaching, rigorous learning, and meaningful music engagement.